Be  sure to  participate  in any  parts  of the  Dingle  Way, Whether  for  10 minutes  to 4  hours  treks. The  scenery and the  magic  of The Dingle Way is spectacular
The  landscape  is really  diverse  where the  mountains  can be  quite barren but over the next crest the  views  of the  ocean and  the green fields brings various  emotional highs. Getting out and  being  close to  nature and  seeing the  beauty  of grazing  cows or  ducks  flying  over  head makes  the  Dingle way immense  in terms  of the  total  Bio Diversity  that  it has  in abundance and on offer.
The  Dingle  way will navigate  along the  Slieve Mish  mountains   from Tralee where at  Camp one  can travel toward  Cloghane  by  staying on the  north  of the  peninsula  or  head  from Annascaul by  travelling through the Slieve Mish.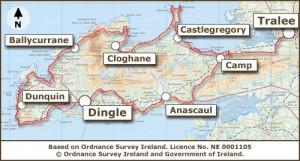 Don't  be afraid  of the  weather. Yes  it  is  windy and  wet but the  climate  is  temperate  and the showers  only  last 10-15  minutes  at a  time, and  if  longer then there  is an abundance  of cafes and restaurants  that  you  can hide  out in.  The main thing is that  you  are fit and  have the physical  endurance to undertake such  walks. However most  walkers  know  that they  will be  out  for  several  hours and  they  should be  dressed  accordingly  or  at least  have  enough  food  and  clothing  in their knap sacks  when needed.  The  outings  can be as  longs  or  as  short  as  you  wish.
The trail is roughly 180 km long and  would take about  7/8  days  if  completed  in full.  The Dingle way has many  walking  trails  which navigate the  peninsula  between Tralee and   Dunquin / Bally David.