Thanks to  Topaz on Fenit  Road, Ales gets his wallet back from the dustbin !
A  real  thank you to Topaz on Fenit  Road, Tralee  today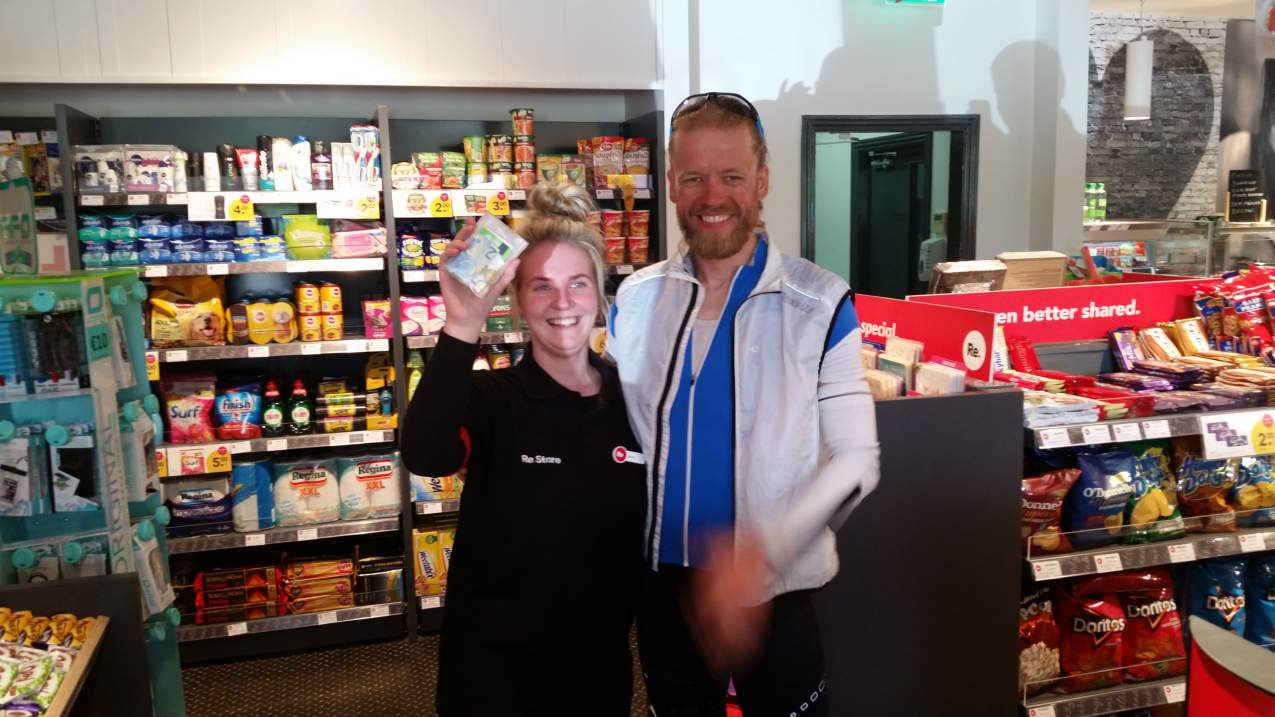 who  is  running the Trans Atlantic Way  http://www.transatlanticway.com/
got a  puncture at the  top of the Conor Pass today. He  managed  to mend the tire with the help  of  someone  who  was on the route and  wobbled into Dingle .   However  when he  got to the cycle  shop on Dyke Lane he  discovered  that he  didn't  have his wallet .
When I  found Ales  he  way  thumbing  out of Dingle where  he  disclosed  what  had  happened.  "Where  do you  think you lost the wallet"  I  asked  as he tumbled into my  small Nissan Micra.
"I  think I  threw  it  into a rubbish bin out side a  shop in Tralee" he replied. I  looked at  him with a  sense  of suspicion. Well maybe a  bit  more  than a  sense. Cant  pay  for  tire, is  completely in disarray, something  about an iron man race, endurance and all ,    and was  now  looking  for a shop  in Tralee  that  may  have  a  wallet in the dustbin. Yea, Yea!   I  have  seen these guys  before.  Even if  it  were  true  I  thought Iron Men and Athletes  were  super  organised  and  not out  of  sorts  like this fellow  who I  just  happened to  stumble  upon.
After  going a  few miles down the road  and while I was driving  Ales was  able to tell me  the  location of the  shop, using his mobile always on data.  I remembered  that this  was the  same  shop  that  stayed  open all night serving petrol for those  of  us  that  travel to  Dublin in the early  hours  of the morning. I  pinpointed the shop  on the net and called Topaz  ( well a friend of mine, who I called pin pointed it )   asking  if this  was  still a the  filling station on the Fenit Road . When I  called I  was able to indicate  that I  was  travelling  with this  wild person  from the Czech Republic who was  in no. 4  position in the race but  was  loosing  minutes  as we  spoke.  Would they  mind awfully  checking their  bins  on the off chace  that there was a  wallet  in a bag inside their  outside bin. They didnt blink an eyelid.  Sure,   people  continuously leave wallets in the bin.    They  called  me  back with  15  minutes  and at that  point could I  rest  easy  that I  wasn't  transporting a "nutter"  in the  back. Well he  was  a nutter, but  only  because  he  was  travelling  300 km  each  day  in  order to  get to Cork  by tomorrow but  needed to complete  2,500 km  in less than  7  days.
I  decided to bring Ales  to Fenit  Raod and then bring  him back  to Dingle again  (    60 mile  round  trip.)    I  wasn't  busy and  sure I wasnt  doing the race. It  was the least I  could do  to "egg him on"
Ales's  blog  can be  found  at http://beranyduc.blogspot.ie/
Again if  you  want to  know  more about this race  please  see  http://www.transatlanticway.com/  which  finishes  tomorrow or the day after.
P.S  As I  write this Aleg  is  still out  pedalling  ( probably  just  getting into kenmare with the rest of the Wild Atlantic  Way to finish  tomorrow and  will most  likely  be in Cork for the  finish. Nite  night!  I am off to  bed . What time it is . Yawn !  it's  9.30pm. Written by Aidan Gillespie  / Annascaul Adventures