Historical Walk by John Hanafin, Annascaul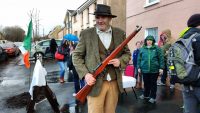 Join John Hanafin for a Historical walk through Ballinacourty, Annascaul. Let's find out what really happened to the church that disappeared overnight. This was a heroic act carried out by the people of Ballinacourty, Annascaul. This true story took place in the 1800's and was truly daring. Learn more about the truth next Sunday 6th November @ 12 Noon outside the community centre.
Everyone is invited to take part. The walk will return to the Community centre where we will celebrate with music, dance, food, bouncey castle etc. This exciting event will hope to include everybody, families, young and old.