Annascaul Transport
Annascaul Transport.
Bus Service for Annascaul & surrounding townlands
Bus Eireann (Tralee – Dingle)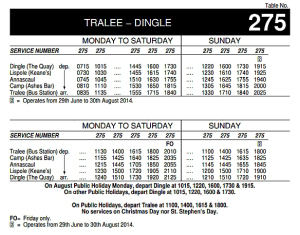 Re Annascaul transport it is always  good to  know the  time table  for  buses  from Dingle and Tralee. Their  local no is 0667164700. Having this  piece of  data  is invaluable if you  ever  find  yourself  in  an unfamiliar village.
See also http://www.buseireann.ie/inner.php?id=241  for other national routes
Kerry Community Transport
Bus Service for Annascaul & surrounding townlands
Bus Service for Annascaul and surrounding townlands that travels into Tralee every Friday. Cost €5 day return and Free Travel Pass accepted. Timetable below.
R58 – Annascaul Area to Tralee
Every Friday
Depart: Ballynacourty at 10.15am
Arrive: Bons Secours, Tralee at 11.45am
Arrive: Dominicans Church, Tralee at 11.50am
Arrive: Garveys, Tralee at 12.00pm
Pick Up and Drop off Points
Gort na Chorráin, Cul Na gCopog, An Com Dubh Beag, An Cnocán, An Com Dubh Mor, Dromavally, Annagap, Ballynacourty, Annascaul Village, Fearann na Carraige, Gurteen, Flemingstown, Glantane, Lougher, Camp Cross, Curraduff, Lower Camp, Knockglass more, and onto Tralee.
To book a seat just ring our lo-call number 1890 528 528 or 066 71 47002 any day Monday to Friday (9.00am to 5.00pm), but no later that 4.30 pm the day before the service is due to operate. This is to guarantee that we can contact the provider with your booking for the next day.
Operates a weekly bus service to Tralee, running on Fridays:
---
Kennedys coaches(Mini bus Hire)
We run weekend services between:
These services run every Friday & Sunday during the college year generally from September to April and are operated to cater for the needs of the students & any other passengers who wish to avail of it. The larger coaches have WI-FI which enables people to connect to the internet free of charge 
Contact: +353 66 915 7106
Website: www.kennedycoaches.com

---
Paddy Wagon Tours
Our tours offer an exciting way to see Ireland, with songs and stories, laughter and folklore and a great journey to remember forever! They are perfect for the young and the young at heart! Everybody is welcome on Paddywagon Tours!
Some of the services we offer are:
Day Tours to all the best locations from Dublin, Cork, Limerick and Belfast!
Private Tours – from a Mercedes Car to a 64 seat coach we cater for all needs! Our team will work with you to arrange the trip of a lifetime.
All-Ireland Network of hostels offering great value tours from 2 days – 9 days! Upgrade option to private B&B rooms available on all tours.
9 day Cultural & Historical Tour staying in great Hotels & Country lodges.
Shore Tours from the major ports for all visiting Cruise Ship passengers.
Contact: +353 1 823 0822
Website: www.paddywagontours.com

---
Taxis
Baile na Saor Cabs 087 1314391/066 9157276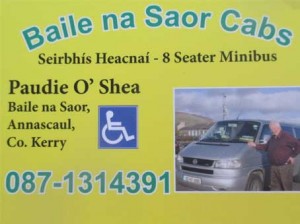 ---
Paidí
Tom Moynihan