Jerome Connor, Renowned Sculptor
Jerome 0′ Connor was a  native  of Annascaul, Co Kerry . Jerome's  father  was  as stonemason and would work  with his  father's  tools  and chisel and  carve on local  stone. In 1888   Jerome emigrated  to Massachusetts where  he  was  able to  eventually  find work  in   New York as  a stonemason, sign writer and machinist

O' Conner was very influenced by Irish American sculptor Augustus Saint Gaudens where he uses the human shape to exlore values , emotions and ideals. We see this clearly in the Eire sculpture and alot  of  O'Connors  work  is a  departure  from the  Irish tradition of stone carved, church sponsored works.  O' Connor is a recognized world class sculptor and where he  is also  well known  for  his best known work his  Nuns of the Battlefield where over six hundreds nuns nursed soldiers  of  of both armies during the American Civil War.  O'Connor moved  back to  Ireland  from the  United States in 1925 and moved to Dublin and in 1926 he was contacted by Roycroft  to design and cast a statue of Elbert Hubbard who, with his wife Alice, who  had perished in the sinking of the Lusitania.  The Elbert Hubbard statute was unveiled in 1930 and today  and can be seen on the   East Aurora's Middle School lawns  across from the Roycroft Chapel building.

 Jerome O' Connor unveiled a  beautiful statue of  Bishop John Carroll who was born in Donegal .  Bishop Carroll served as the first bishop and archbishop in the United States.  He  was a prelate of the Catholic Church and was  instrumental in the  founding and development of Georgetown University.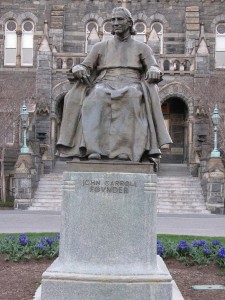 Jerome O' Connor  moved back to Ireland in 1925  , opened his own studio, but  his work  began to  slow  due to lack of  support and patrons.  He died on in  1943 of heart failure.